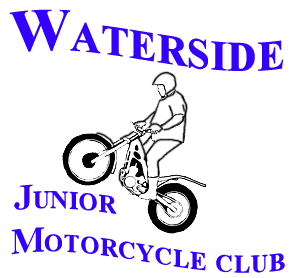 Waterside Junior Motorcycle Club
About The Club
Waterside Junior Motorcycle Club is a motorcycle trials club affiliated with the Auto Cycle Union of Great Britain.
In our early history, we were predominantly Junior members, though in recent years our members have come from a wider range of ages.
While the name of the club is Waterside Junior Motorcycle club, we welcome new members of all ages, and currently have members between 7 and 76 years old.
We are a family friendly club, and our riders encompass every range of age and ability. Each event has a number of different routes available to ride, in order to provide different levels of challenge.
For an explanation of how the different routes are set out, please see our FAQ's.
We run events throughout the course of the year to enable members to practise and compete amongst their peers. We are able to do this due the to support of landowners and input from our members.
In the last few years, each event has averaged between 30 and 50 riders, ranging from adult Expert Route riders to youngsters being introduced to the sport, and making sure their parents get extra exercise chasing them round the sections!
---
New to the Sport
We are always open to new members.
The best way to experience what trials is about is to attend any of the events listed on the events page.
If you are looking to try the sport, please identify yourself to any of the club officials at an event, or contact us through the club email address. We are happy to assist in whatever ways we can to introduce new people to our sport.
Enquiries on this front can either be placed through this site, or can be conducted face to face on the day. We always welcome spectators, at no cost. This is a good way to get to grips with the rules, as motorcycle trials is very spectator friendly.
The club has a number of different options available to those who wish to understand further what trials is, please contact us to discuss these options.
---
Contact Us
Email: watersidejmcc@yahoo.co.uk